Sustainable Services Initiative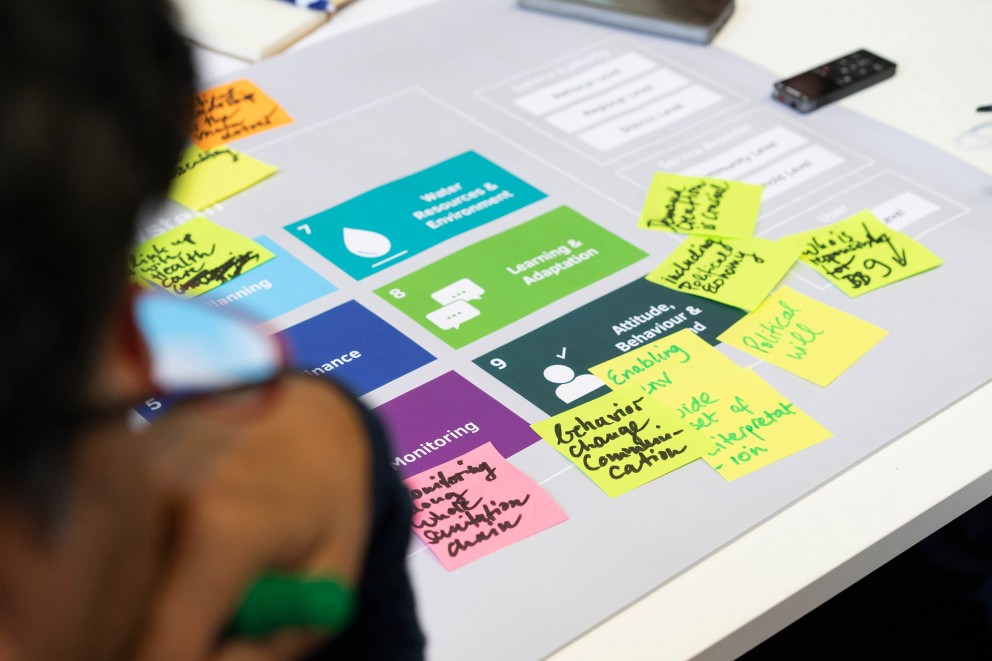 About the project
Despite decades of efforts, water and sanitation are still inadequate in many developing countries. On average, 30 % of all hand pumps in Africa are broken, another 40 % are limited in their functionality. Insufficient financing, poor maintenance and a lack of local management lead to initial improvements in rural water and sanitation often dropping back to their original level after only three years.
Together with other project partners, GTO supports Welthungerhilfe in the Sustainable Services Initiative (SSI) in establishing a systems approach in the WASH sector to improve the sustainability of service delivery. It is no longer just a matter of implementing WASH infrastructure (e.g. pump / toilet construction), but goes far beyond hardware measures towards strengthening the institutional and political system in which it is embedded.
As a "WASH system" we understand the following 8+1 functional areas, which are based on the existing conceptualization of a system of the Agenda for Change:
A comprehensive analysis of the strengths and weaknesses of these functional areas as well as the close cooperation with the responsible authorities and all other parties involved in the system (research, regulation, public and private sectors, civil society) are prerequisite for sustainable district-wide service delivery. Furthermore, it is essential to clarify the respective roles and responsibilities in a sound planning process.
With its focus on food security, Welthungerhilfe is one of the first non-WASH organisations to improve the sustainability of its water and sanitation projects through holistic project planning and implementation. Another particularity of the SSI is its focus on sanitation and hygiene, while the WASH systems approach often addresses only the water component. The aim is to pilot systems strengthening through the SSI in three countries and starting from 2019 also in other countries, where Welthungerhilfe is active with WASH projects.
GTO's role in the SSI is to strengthen the sanitation and hygiene components in the system approach for WASH and to support the initiative with our advocacy work.
consortium partners

pilot countries

beneficaries